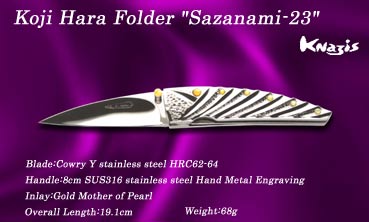 Blade Material CowryY Stainless Steel
Handle Size 8cm    Overeall 19.1cm Weight 68g
Handle Material  SUS316Stainless Steel Solid/ Yellow Lip Pearl

accessory Pouch
200*model  
product ID number:kh023
price: ¥ 430,400<!-US$1,800->
Every hand made knife is a unique product. For this reason, if you request a similar knife to one that has already been sold to a customer Knazis Knife will ask for your patience as they expertly produce a similar product.




 Facts about Koji Hara 2

Hara does not use a sanding machine, he polishes each individual piece manually. He polishes with #320, #600, #1000 and #2000 cloth papers followed by #2000, #3000 and #8000 diamond pastes. This is the reason for the absorbingly beautiful lustre produced on every knife. As a proof of his confidence that no one can perfect his masterful skill he keeps no secrets about his process and openly publishes it.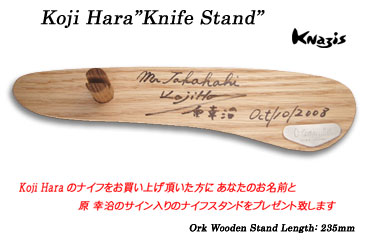 ©2007 Level2 TakahashiCutleryCo.Ltd