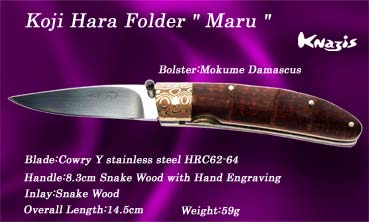 Blade Material CowryY Stainless Steel
Handle Size 8.3cm Overall Length 14.5cm Weight 59
Handle Material SUS316Stainless Steel/ Snake Wood
accessory Pouch
2007 model
Woodgrain Damascus Bolster
product ID number: kh011
price: JPY 132,800
sold out
Every hand made knife is a unique product. For this reason, if you request a similar knife to one that has already been sold to a customer Knazis Knife will ask for your patience as they expertly produce a similar product.



Facts about Koji Hara 5

Hara has won a number of international awards, but the one he is particularly proud of is the one he won in Milan in 2004. The award is called gShockingly excellent design as if lightening struckh. Though he first made his name in the USA, his work has a global presence winning awards such as this and the gBest Folding Prizeh in Paris 1988.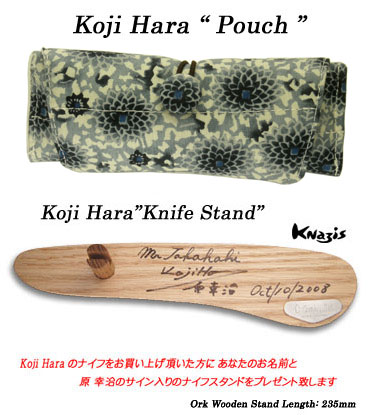 ©2007 Level2 TakahashiCutleryCo.Ltd