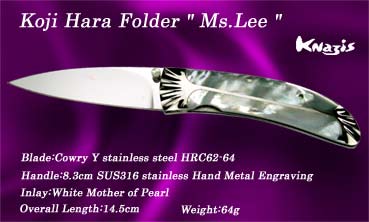 Blade Material CowryY Stainless Steel
Handle Size 8.3cm Overall Length 14.5cm Weight 64
Handle Material SUS316Stainless Steel/ Mother of Pearl
Mother of pearl inlaid into the back side of knife
engraved bolster
2002 model
product ID number: kh018
price: ¥ 180,800
Every hand made knife is a unique product. For this reason, if you request a similar knife to one that has already been sold to a customer Knazis Knife will ask for your patience as they expertly produce a similar product.
Facts about Koji Hara 12
Hara payed respect to Ms Lee, and dedicated one of his designs to her. She is a staff member at a Knife Gallery in Korea who has helped Hara greatly over years. Hara named the work gMs Leeh.? It is an elegant work featured by the SUS316 stainless steel and beautiful Mother of Pearl.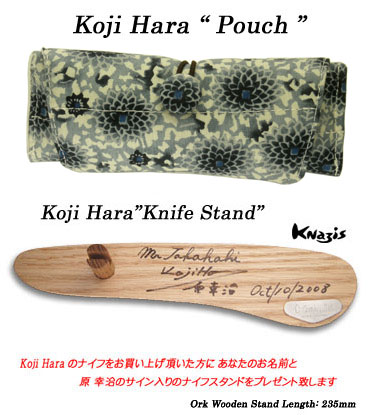 ©2007 Level2 TakahashiCutleryCo.Ltd