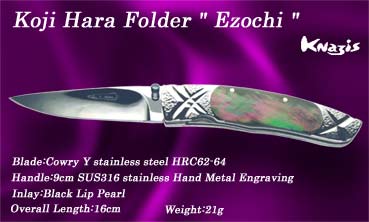 Blade Material CowryY Stainless Steel
Handle Size 9cm Overeall 16cm Weight 21
Handle Material SUS316Stainless Steel/ Black Lip Pearl
accessory Pouch
Black lip pearl inlaid into the back side of knife

Bolster Hand Engraving
2007model
product ID number: kh005
price: JPY270,400
Every hand made knife is a unique product. For this reason, if you request a similar knife to one that has already been sold to a customer Knazis Knife will ask for your patience as they expertly produce a similar product.
Facts about Koji Hara 5
Hara provides his design to Buck Knife and Columbia River, and his name, Koji Hara, is used on such items as Koji Folder, Koji Fix Stone step, Koji Dagger Stone step and Koji Yellow horse knight hunter of Buck Knife and Koji Hara Ichi of Columbia Knife.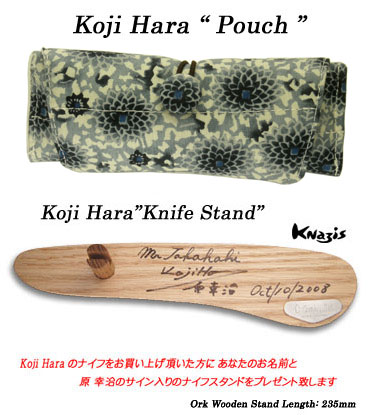 ©2007 Level2 TakahashiCutleryCo.Ltd