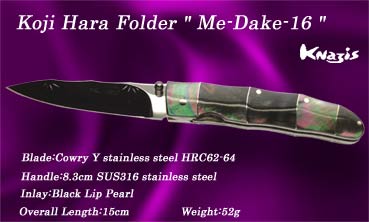 Blade Material CowryY Stainless Steel
Handle Size 10cm Overall Length 13cm Weight 10.3
Handle Material SUS316Stainless Steel/ Black Lip Pearl
accessory Pouch
Black lip pearl inlaid into the back side of knife
engraved bolster
2002 model
product ID number: kh016
price: ¥136,000
Every hand made knife is a unique product. For this reason, if you request a similar knife to one that has already been sold to a customer Knazis Knife will ask for your patience as they expertly produce a similar product.
Facts about Koji Hara 10

Hara does not use screws when putting in his work together. Instead he uses SUS410 pins for stainless steel handles and nickel silver pins for chougai handles. The reason why he dwells on using pins is because anyone can use screws and only the real professionals can truly capitalise on the benefit of pins. Hara perfected his skill of fine tuning pin adjustments, and this is appreciated by the knife users as the liner lock mechanism works smoothly for a very long time.?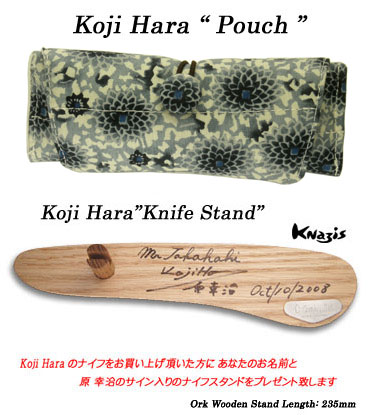 ©2007 Level2 TakahashiCutleryCo.Ltd